Press
Via OC Weekly ¦ Best of 2013 Guide:
---
"Glynnes Pruett has created the perfect clubhouse for nerds, and we mean that in the best possible way. Among comic books and related collectibles, you'll find people just hanging out as Pruett's black cat, Pavlova, roams through the shop. In business for about a year, Pruett recently moved her shop to a larger, more visible space in downtown Fullerton. The vibe is friendly and cool, as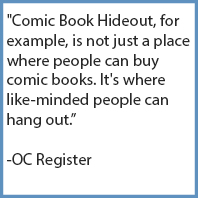 she and her crew share tips, locate issues among their packed-tight stock, and offer suggestions to newbies and those just looking for something new. There's plenty of room to play: A kids' corner holds a chalkboard and Nerf guns (take cover!), and in the back are several tables and game machines.
Among the space for emerging artists to showcase their works is a cozy set-up for watching videos or playing games. And Comic Book Hideout hosts weekly Game Nights, at which any and all card, board and dice games are welcome. Don't forget to make a donation to the Save the Cheetahs fund when you pay for your purchase. (Among other inclinations, Pruett has a thing for big cats, having studied animal science at Moorpark College.) If you need us, we'll be in the back, hiding out from the real world with some superheroes."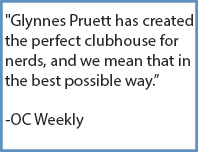 Review from Inside Fullerton:
"The owner of Comic Book Hideout, Glynnes Pruett, gave me a tour as she explained that her store has, 'Cool weird stuff that you won't find anywhere else.' The store is definitely packed wall to wall with comic merchandise. Some of her unique store items are a life-size villain from the Mighty Morphin Power Rangers series and two pinball machines. A section of the store displaying the Walking Dead comics also caught my eye. The store features a comfortable lounge where customers can hang out around the TV. They recently hosted a screening of The Lord of the Rings trilogy before walking to the nearby AMC theatre to see The Hobbit. Glynnes explained that her store hosts game nights, and art galleries, 'that are   complementary to the comic sensibility.' They have over 15,000 back issues in stock and with 19 years in the industry, Glynnes can answer any question you may have."
Via FullertonFoundry.com ¦ 8/11/2013:
"Comic Book Hideout's Grand Re-Opening yesterday at their new location (just a stone's throw from Fullerton's Civic Center) attracted a throng of geeks, nerds, gamers, fanboys, art lovers and fun makers. The all day affair included refreshments provided by Guerrilla Tacos food truck; jewelry and live artist card renderings by artist Nicole Sloan of Drawings by Nicole; a Dr. Who themed art exhibit by Kelby; raffle contest; and a Magic: The Gathering tournament. Costumed members of Pieced Cosplay were on hand to add verve and flavor to the event. The celebration also served as their Fullerton Chamber of Commerce ribbon cutting ceremony.
Previously housed a good distance from downtown, closer to the AMC Theater on Lemon and Orangethorpe, the Hideout's new digs affords them greater foot traffic; better storefront visibility; and a more spacious and versatile space. Putting a strong emphasis on community, proprietor and operator Glynnes Pruett, thought it very important to be on the monthly Fullerton Art Walk route. It is a coalition of various businesses who host different artists every first Friday. Their main objective is not only to promote art, but also to foster an intrinsic bond within the city.
This particular venture has been a long-standing dream of the vivacious 25-year-old Fullerton resident. Her extensive knowledge of comic books and the rapidly growing comic book culture — as well as a propensity for "vintage arcane weirdness" — creates an easy-going atmosphere in the shop, making it more welcoming as a clubhouse rather than strictly as a commercial establishment. In fact, don't be surprised if you spy Pruett's cat lounging about nonchalantly on a sofa or Pruett herself navigating the aisles, weaving in and out on her roller skates."
Bleeding Cool ¦ 2/22/2015
There is a comic book shop in Fullerton, California that has original  art up in the window …
or more specifically on the window. The Comic Book Hideout got artist Dan Fraga to draw on the front of their store. Fraga took pictures and posted them to his Facebook pages as this being the largest thing he's ever drawn. Fraga has worked on Spider-Man, Wolverine and Bloodstrike as well as on the Ricky Gervais show  where he directed seasons two and three.