Drink & Draw – special event with comic artists!
March 31, 2017 @ 8:30 pm

-

10:30 pm
Event Navigation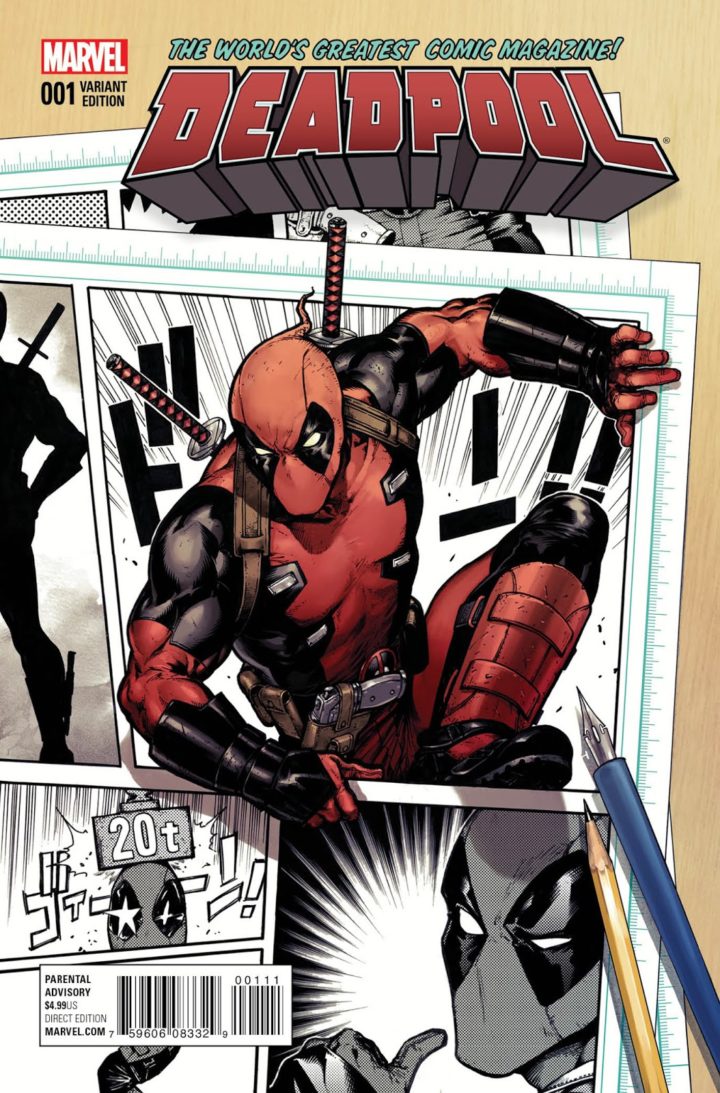 BYOC – Bring your own comics! Scott Koblish, Emonic and many more fabulous comic artists will be joining us for a very special Wondercon edition of Drink & Draw!
Bring comics for them to sign, bring ideas for things they could draw – it's going to be a super fun, casual night of awesome art! Don't miss this!
Scott Koblish : Deadpool / Marvel
He's Scott Koblish. He draws Deadpool, and lots of other stuff.
Seriously. If you don't know him, look the guy up. How do you not know Scott Koblish?!
Emonic : Gevaudan / Ferric Press
Contorted characters concerned with mysterious crimson wisps. Subtle skulls and masks with sunken eyes fixed on something just out of sight. An impish fellow with just the right amount of mischievousness. These apparitions and more escape from paintbrush and pen tip alike, occupying a litany of surfaces so naturally it's as if they'd always belonged. They've simply come back home.
 Emonic (Emo Gonzales) has been creating art since he was a child. During his youth he was heavily influenced by an amalgam of subjects such as  graphic novels, music, movies and graphic design. When working on projects he often employs a mix of mediums  in both the traditional and digital realms. He is a self-taught artist, however he does hold an A.S. degree in Multi-Media. 
Tony Guaraldi-Brown : The Final Plague / Action Lab Comics
Tony Guaraldi-Brown is an artist and educator. He was the lead artist for the comic book The Final Plague (Action Lab Comics) and The Showdown (Broken Icon Comics) as well as illustrating short stories for the Hot Rod Horror anthology. Along with creating artwork for several SF bay area bands, Tony has also done work for Fat Wreck Chords, creating artwork for the band NOFX as well as artwork for the personal collection of Fat Mike Burkett.
He lives and teaches art in Northern California with his wife and family and is currently working on a weekly webcomic called The Cone Nose Saga.
Felicia Ann : Illustrator / Graphic Artist
Felicia Ann is an illustrator and graphic designer hailing from Oakland, CA. Felicia started her career in the Bay Area in 2011, after graduating from Academy of Art in San Francisco.
Of Chinese-Malaysian descent, she blends her rich Southeast-Asian heritage with traditional and digital art, and expresses her work in the female form.  Felicia also has a strong interest in science and space and is often reflected in her later works.
ART IS NOT DEFINED BY ITS MEDIUM – Felicia works in a range of medium including oil, acrylic, and digital painting. Challenging the common misconception that digital art is a lesser form of art, her recent works are mostly done digitally which are then combined with other medium to create texture and depth.
Cody Vrosh : The Android's Astrological Companion / Binary Winter Press
Cody Vrosh is an artist and illustrator, and the co-founder of Binary Winter Press. He works in graphic watercolor style, fusing science fiction elements with bold female characters and playful creatures to create a unique brand of speculative pop illustration. His depictions of dark and whimsical companionships attempt to express the aspects of one's personality that we typically hide from the world.