CAMP HIDEOUT Session #2
July 13, 2015 @ 1:00 pm

-

August 6, 2015 @ 2:30 pm

$200
Event Navigation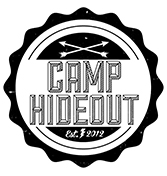 CAMP HIDEOUT ¦ C.O.M.I.C.S. Program:
Ages 7-16yrs
TO REGISTER FOR CAMP PLEASE CALL THE SHOP
Captivating Our Minor's Imaginations, Creating Solutions; is a versatile program designed to engage students in introspective reflection and help to identify with a more positive and heroic self image. In teaching the core concepts of the Heroic and Villainous archetypes, The Hero's Journey basic story structure, and art techniques our students can have a better understanding of the rewards or consequences of their actions and decisions. Using a comic book medium to express their thoughts and feelings, minors can captivate their imaginations in a fun, fresh form. Within the cathartic nature of creative writing and art, the energetic and youthful palate of comic books gives students the ability to dynamically express themselves while maintaining a level of playful entertainment.
ABOUT US: 
Glynnes Pruett is the owner of Comic Book Hideout, named "Best Comic Book Store in Orange County" for the last 2 years in a row. She gained a triple major Communications Bachelor's of Art Degree from California State University Fullerton, with an emphasis in Screenwriting.
Wilt Manglicmot is an artist, designer, animator and motion graphics designer. He has been drawing his entire life and has a Bachelor's of Art Degree in Media Arts and Animation from The Art Institute of California Los Angeles. From there he moved on to work creating graphics for the television industry.
OUR EXPERTISE:
Glynnes has more than 20 years experience in the comic book world and has taught and tutored independently and through private institutions for more than 10 years. The C.O.M.I.C.S. program she has created has been instituted in the Fullerton School District, Orange County Juvenile Detention Center and the Muckenthaler Cultural Center.
Wilt is currently a graphic designer and motion graphics artist for television and works at mDots Design. He has built and designed graphics for such shows as the Grammy Awards, The Golden Globe Awards, The Screen Actor Guild Awards, The Democratic National Convention among other shows and has recently designed tour content for Enrique Iglesias.
CAMP HIDEOUT DATES:
June – Mondays & Thursdays 1:00pm – 2:30pm
7/13         &     7/16
7/20        &     7/23
7/27        &     7/30
8/3          &     8/6 – Showcase
The CAMP HIDEOUT session package includes:
8 (1.5hr.) classes @ Comic Book Hideout
1 Camp Hideout badge (when worn/displayed gives 10% off all in-store purchases for 1 whole year!)
All materials to create a full comic book
A full showcase of all finished projects @ Comic Book Hideout
COST $200.00
DROP-INS – For Session 2, any camper that took Session 1 can come to ANY class as a Drop in student for the day for $20.00 a class. 
Related Events